While cricket is almost a religion in India, online cricket betting is also growing in popularity amongst punters across age groups, genders, and other economic and social parameters. But, many people are still not clear about how to place an online bet, find a trustworthy website, etc.
They'd like to place a bet, but they aren't entirely sure of how it works. That's the reason this post is dedicated to providing clarity on various aspects of online cricket betting in India. Your betting journey should start with finding a reliable betting site like Fun88 that offers competitive odds, betting tips, and secure payment methods.
Here are the things that you must know while placing bets on cricket:
Plenty of secure betting sites are available. The first question that comes to anyone's mind is how to find a secure betting site for cricket. You may love the sport (cricket in this case), but you surely don't want your money to get stuck with some shady website. Well, the good news is, there are plenty of secure betting sites available today if you want to bet on cricket. It's also easy to check if a betting site is secure or not. All you have to do is click on the 'lock' icon before the website URL, and it will show you whether the connection is secure or not. For example, Fun88 is a secure betting site.

Online cricket betting is not illegal in India. Although gambling is strictly prohibited in India, the law is silent on online betting. As a result, online cricket betting is a gray area in the country. That being said, many companies located out of India are operating online sportsbooks, which provide options for punters to place their bets on cricket matches online. Since placing bets with companies based in India can be legally risky, a lot of people turn to betting sites like Fun88, which are based outside of India and provide a legitimate option to wager on cricket and other sports.

Variety of options to place your bet. You've so many options to place your bet that you can't even keep a count. For example, you can bet on who will win the match, the top scorer, who will take maximum wickets, and the number of 4s and 6s. You can even bet on the likely winner of the coin toss, which means you can bet on events, which aren't a function of cricketing ability. At Fun88, we provide all these options. We allow you to place your bets before the match (pre-match betting) as well as during the match (in-play betting).


Fun88 is one of the few sites that offer a betting exchange under which bettors can offer odds and request odds from other bettors. It allows bettors to earn commission on wins and bet against each other


Cricket betting isn't limited to only IPL matches. While the Indian Premier League (IPL) is undoubtedly the most popular cricket tournament in India, you should keep in mind that cricket betting is not limited only to IPL matches. You can always bet on test matches, one-day internationals (ODIs), and other T-20 tournaments apart from the IPL. Betting on test matches is a really interesting option these days because most test matches end with a lot of thrill. The recently concluded India-Australia test series, which India won against all odds, is a strong example of this.

Tons of statistics and data are available. As a punter, remember that your bet is as good as the research you put in. The good thing is, it's very possible to thoroughly research a player, a pitch, a ground, and a team. At Fun88, we provide cricket betting tips and analyses, which can come in handy. Similarly, www.cricinfo.com is a great resource for detailed statistics, match-wise, team-wise, series-wise, and even ground-wise. Digging into such websites will provide you with invaluable information, which will help you in betting intelligently.
Quite a few sites offer competitive odds. Before placing bets, you must compare the cricket betting odds across various websites. Without competitive odds, you'll have little to no chance of making money. Always remember that the odds the betting sites offer have already built-in bookmaker's commission. So when you compare odds across websites, it will also give you an idea about how much commission is being charged. At Fun88, we offer some of the most competitive and fair odds for betting on cricket matches.
Secure payment options are a MUST. While there are betting sites that use secure payment options, there are also other sites that are not very secure in terms of their payment gateway. As a bettor, you must ensure whether the betting site provides secure payment options. We'd advise you to look for the sign PCI/DSS (the payment card industry data security standards), which says if the website is PCI compliant. If a site is PCI/DSS compliant, it means that it maintains a secure environment for processing, storing, and transmitting credit card information.


Betting sites offer rewards, bonuses, and promotions. To make cricket betting a rewarding proposition for punters, betting sites offer various kinds of bonuses, rewards, and promotional offers. If studied properly, such schemes may end up offering you a good return on investment (ROI). Fun88 offers a lot of such rewards to the bettors. Check out some of the best promotional offers by Fun88.


Sites allow deposits in Indian Rupees (INR). Since betting sites are operated by companies registered out of India, often punters have this concern whether these sites will allow them to make deposits in INR. You'll be glad to know that most betting sites allow you to create deposits in the Indian currency. So, you don't have to worry about this aspect at all. Fun88 enables you to make deposits in INR and withdraw your money in a hassle-free manner. At our website, you can make deposits using reliable modes like Netbanking, UPI, GPay, VISA, Master Card, ecoPayz, AstroPay, and Sticpay.


Betting apps bring action to your smartphone. Many sites have launched apps that bring the thrill and excitement of betting to your mobile phones. It also gives you the flexibility to place bets on-the-go without having to wait for a laptop or computer. Fun88 has launched an online cricket betting app for both Android and iOS platforms for punters. Download our app now.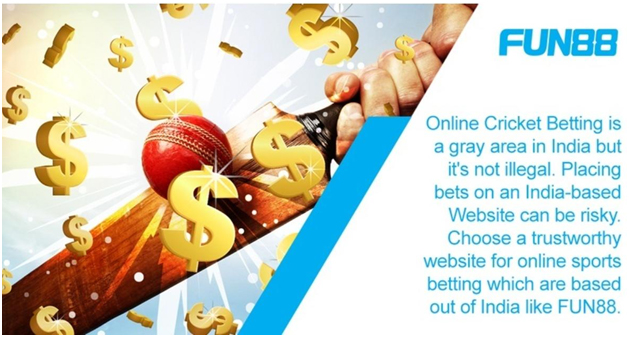 Fun88 offers features like online cricket betting tips, bonuses, rewards, and secure payment for all kinds of bettors. Register now!
Star it if you find it helpful.