No other team is likely to have the kind of turnaround in the ninth edition of the Caribbean Premier League (CPL) as St Kitts & Nevis Patriots.
If that were to happen, it would be one of the most dramatic turnarounds ever in CPL's history. Having finished last in the three editions, 2015, 2016, and 2020 of the CPL, St Kitts & Nevis Patriots was considered a weak team so far, and justifiably so.
However, the team management has made serious efforts for revamping the line-up. That's the reason St Kitts & Nevis Patriots have roped in some of the stars of limited-overs cricket, including Chris Gayle, Dwayne Bravo, and Anrich Nortje.
The important question is: Will the inclusion of star players and home advantage benefit so much that St Kitts & Nevis Patriots go far in CPL 2021? At Fun88, we think St Kitts & Nevis Patriots will be among the top teams in CPL this year. They may end up reaching the final or even winning the trophy.
In the six outings so far, the most they have succeeded is when they finished runners-up in 2017. Therefore, this year seems like their breakthrough year. Even if they don't win the cup but end up going deep, it would be nothing short of an achievement.
In this blog, our experts will explain why St Kitts & Nevis Patriots are one of the favourites to win CPL 2021, the challenges they still face, and their key players. So, read on….
Related read: When and where will Caribbean Premier League 2021 matches be played? Check out the CPL 2021 Fixtures!
Betting tips and odds for St Kitts & Nevis Patriots in CPL 2021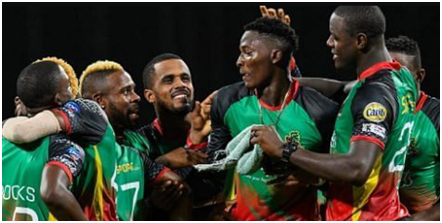 The betting odds suggest that St Kitts & Nevis Patriots has a good chance of either winning the CPL in 2021 or going really deep in the tournament. That's predominantly due to the inclusion of players like Gayle, Bravo, and Nortje.
Gayle may be 41 years of age, but he's still a powerful hitter of the cricket ball. He must be fancying his chances of doing well in the current edition of the tournament.
For St Kitts & Nevis Patriots to do well, a lot will depend upon Gayle. He'll have to perform in tough situations for his team. Then comes Bravo, who requested his earlier team, Trinbago Knight Riders, to release him to St Kitts & Nevis Patriots. Like Gayle, Bravo, too, is a legend of the game.
In 2020, Bravo became the first player to take 500 T20 wickets. That's massive in the 20-over format. Bravo is not an express-fast bowler, but he's perhaps the most effective medium-pacer in this format.
He bowls a lot of slowers and cutters, which work really well on the slow pitches in the West Indies. Besides, Bravo has scored close to 6,500 runs in the T20 format, and St Kitts & Nevis Patriots will be looking forward to seeing him perform well with the bat as well.
The fact that a much stronger side like Trinbago Knight Riders has released Bravo to St Kitts & Nevis Patriots also means that the teams are more evenly balanced in this edition of CPL than earlier. So, we should be expecting a lot of close matches as well.
Another major inclusion in St Kitts & Nevis Patriots is that of the South African fast bowler, Anrich Nortje, who's a regular fixture in other leagues as well. Nortje has taken 22 wickets in 16 matches in the Indian Premier League (IPL). Both the fans and the management of St Kitts & Nevis Patriots expect him to win matches for his team.
Lack of a quality spinner may pose issues to St Kitts & Nevis Patriots
Even as the pitch at Warner Park offers a lot of turn, St Kitts & Nevis Patriots doesn't have a quality spinner in its side. This is surprising because almost every team participating in CPL has more than one spinner to get the best out of the surface.
Therefore, it's baffling that the management of St Kitts & Nevis Patriots, which has otherwise overhauled the team, has ignored this fact. Sure, they have a right-arm off-break bowler in Jon-Russ Jaggesar, but he's no match-winner.
We hope that St Kitts & Nevis Patriots brings in a spinner to have a more balanced side in the future.
Key players from St Kitts & Nevis Patriots to watch out for in CPL 2021
Chris Gayle – Like we already mentioned, a lot depends upon Gayle this time. If he explodes the way he usually does, his team will go far.
Dwayne Bravo – Given that his team doesn't have a quality spinner, Bravo will have to lead the bowling attack from the front. His track record at CPL shows that he's capable of taking wickets when his team wants the most. He's certainly the top bowler for his team.
Evin Lewis – Lewis, who considers Gayle his mentor, loves to hit sixes just like him. He's a really effective T20 batsman with an average of 30.9 and a strike rate of 143.6. Watch out for him if you want to bet on the batsman who'll score the maximum runs.
Related read: A brief history of the Caribbean Premier League (CPL) – Previous Winners, Runners Up, Top Scorers, and More!
Visit Fun88 for the best CPL betting odds, amazing prizes, and a lot more
We offer live score, CPL cricket match predictions, and tons of other insights to help the bettors. Apart from that, we have exciting prizes and lucky draws on our website as well.
So, register at Fun88, and start betting on CPL matches now!
Star it if you find it helpful.